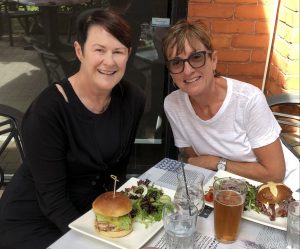 I began my live-streamed fitness journey some 20 months ago as a necessity to keep us working out, moving, staying connected, through lockdowns and the unknown bleakness and panic of a global pandemic. Little did I know it was the beautiful birth of our Singita Online Community, which has been a glorious shining light of inspirational souls who greet me every morning with beaming smiles, ready to take on another challenging workout.  We sweat, we shake, pulse and stretch as they, all in such good humour, share my moments of insanity as I allow my goofiness to take hold and bust out my best bad moves on occasion, all for a little comic relief at the wonder and Joy of it all.
I have not had the pleasure of meeting all of this amazing community in person as my links have been shared, and Membership referrals made through friends, but the real wonder of this all is the fact that true friendships have blossomed and heartfelt connections made and threaded together in a matrix of golden glittering cosmic hope. True encouragement and inspiration. (I'm not dramatic at all…lol)
We all started this journey with a like-minded interest in staying healthy and fit, to ensure we kept our movement momentum going through all the modalities we offer at Singita Barbados and Singita Online, including Ballet Barre, Yoga, Pilates, Bodysculpt, HIIT.
This week I received this lovely picture of MaryAnne (left) and Liz (right) lunching, having recently formed a great friendship. "I never would have thought I would make a friend through Singita Wellness, another reason for you to feel proud" says Liz who I met at my first Health Club I worked at in Oakville, Canada just having returned from South Africa 25 years ago.  I made some amazing friendships in those bygone days and our children all went to school together.  Liz and our fabulous friend Judy have been wonderful fitness enthusiasts over the years. Having moved to Barbados over ten years ago, I lost many of these connections, so it was really heartwarming to have them in my live-streamed classes again.
Fast forward to February 2020 I met Jay, an exuberant, lovely lady from Canada, who joined her first class with me at Singita Barbados, and then lockdown happened.  Jay decided to join us online and has been a wonderful positive addition to our community.  Jay then recommends Singita Online Club to her friend MaryAnne, who also lives in London, Ontario.
Those who know me well know some things never change, I show up on the dot of class times mostly, why would I be the ultimate professional and show up 5 minutes in advance?  I might have a little bit of a spontaneous personality and I love to show up with some sweet surrender and see where Spirit leads me.  Trust me though, not without some conscious connection to my Greater Power above for guidance and inspiration to share with honesty and love for what I was called to do. Needless to say, this allows for a few people embarrassingly staring at a computer screen with other eager participants wondering why I could not possibly show up a few minutes in advance.  But lo and behold we have some chit chatters amongst us and MaryAnne soon discovers Liz lives in the same home town and voila, a friendship is rooted. The most gracious and lovely messages I have received from so many of our Community is honestly the reason I do this and am in awe of the power of Love and Connection.  This message from MaryAnne honestly brought me to tears. "Your kind open energy has been so important to me over these past months. I respect the standard you set for yourself and it motivates me to work towards being a better human.  Thank you!!"
And what more can I say but Thank you I am humbled, honoured and beyond blessed!!!!!
Love Michelle x