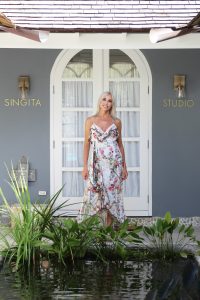 Spring has arrived bringing renewed energy, revitalized souls and an optimism for the future. The age of Aquarius has come upon us, not without a little raucous and shaking up to hail in the new. As with any change, upheaval and breaking open is inevitable as the old energies are displaced, bringing a new world order.  Shifting of planets and eras is linked to global shocks and the crisis of civilization which is undoubtedly what we're currently experiencing during this pandemic. It's certainly not all bad news, it's been a glorious opportunity for healing and growth.
The most exciting news to me about the age of Aquarius is that bonds between people will be built on beliefs of equality and spiritual unity. A calling to change and healing as we peel away the protective armour, fears, insecurities, self-doubt and negative emotions and find our way to a more enlightened being. A shift from less ego to more soul can be an arduous task at times as growth and healing can also bring discomfort.
Once we can bring this peace within, everything else falls into place. Ego says "Once everything falls into place, I will find peace" Spirit says, "find peace and everything will fall into place", an age-old conundrum.
This examination and shift in ourselves through meditation, prayer and personally for me, Theta & Reiki healings, helps us become a beacon of light in our community at large. Singita Wellness for me is a microcosm of our greater community and the hope that the changes and healing I bring through myself and others, impacts on my community.
It has taken some years of wisdom, some tough choices in self-evaluation to define what is most important to me in life. This is what I have learnt, and this is what I know without a doubt.  I will define my life and conduct my business in the highest possible standard of excellence and integrity. This is not always an easy task, especially in business, as we are all human and mistakes happen, however the attention to the seemingly little things to me, add the highest value. My word is my word, I live by the Golden Rule "do unto others as you would have done to you".  I have a strong faith and strong belief in honesty and ethics.
I am building a business where people trust me, trust Singita Wellness and what our brand stands for. We are aligned with the highest and best of all concerned, employees and clients alike. I was particularly inspired after reading the book "Business Secrets of the Trappist Monks" by August Turuk. A wonderfully provocative, insightful message about the power of purpose and how service can fuel success, where authenticity and passion are key.  The power of trust and selfless leadership can be a magical formula and Turuk demonstrates how monks and people like Warren Buffet are so successful not despite their principals, but because of them.
I am now humbled by the strong foundation in the Singita Wellness team we have built.  Our team is built on strong values, empowering each other, believing in each other. We are ready, set, to go as we at Singita Wellness have survived the Pandemic and look excitedly to a brighter horizon as the world opens up to a glorious new era!!
Love Michelle x