Having been in the Health & Wellness business for over 30 years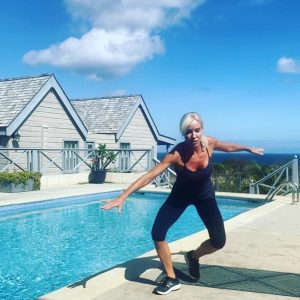 I have seen so many trends come and go. I have been certified in so many different class types and styles as well as Personal Training. Having learnt from the best, Canadian Body building champions, and amazing fitness instructors and presenters I have had the pleasure of working with over the years has shaped my philosophy. This has evolved over the years through working with so many different body types and genetic predispositions, either in my group classes or private clients training one-on-one. We are all doing this to feel, healthier, fitter, stronger and leaner to hopefully help prevent disease and increase longevity.
I would like to preface this blog with the fact that at 57 years of age and having gone through extreme stress in the last couple of years setting up a start up business as well as struggling through ongoing personal troubles,  I have never felt more energized, fit and healthy. This is what I have learnt and would love to share with you all!
Mix things up, diversify, try different classes, various activities, keep moving, challenge yourself even if only for a few five minute segments throughout the day.  I have created our Singita Online Club specifically to fulfil that need.  Find a way around the boring and mundane to discover the pure joy of movement and what works best for your body, wherever and whenever you can.
Obviously healthy nutritional choices, (which I can talk about at a later date) as well as healing our emotional and spiritual selves is a huge part of this equation.  But here goes, why I teach and share these fitness modalities.
HIIT – High Intensity Interval Training
This is something that is not only for the 20 and 30 year olds.  You can modify each exercise and increase your stamina.  High intensity means what it says,spiking the heart rate and giving an anaerobic burst followed by recovery.  This is proven to be the most effective way to burn fat, and improve your cardiovascular level.  HIIT is one of the best classes we can do to stave off forms of dementia!  The sudden bursts of blood flow keeps everything open and flowing smoothly especially to the brain.
Ballet Barre
This to me has been the most inspiring classes I have taught, to see the changes in women's bodies. The toning in the legs and glutes has been visible in just a few weeks of consistency, got me so excited to share with as many others. This class is pure joy, as most of us remember those days as little ones plieing & the beauty of this elegant movement.  There is a reason those ballerinas have the most perfect legs and glutes.  Pulsing and plieing simultaneously keeping that beautiful postural alignment works wonders!
Bodysculpting
Lift those weights people, you are not going to bulk, this is such a myth !!! Those bodybuilders are on extreme regimes and supplementation to look the way they do.  Resistance training is of profound importance, we need to build lean muscle, or at least maintain it as we naturally start losing muscle after the age of 30..  It's the muscle in our body that burns calories and supports our skeletal system.  One pound of muscle takes up a third of the space as a pound of fat. This is one of the best choices we can make to prevent osteoporosis and ageing.
Core Conditioning
Our powerhouse, our core has been given a lot of attention over the last decade or more.  Pilates has boomed and we all know this is an area we need to focus on strengthening to help with any sport or daily activities.  The dreaded plank (we know and grow to love) side plank, every variety of planking, most of us recognize we need to include this as part of a well-rounded fitness regime.
Yoga
Yoga almost needs no introduction. This ancient practice has left an indelible mark on modern day society as we are all looking for a way to slow down, destress and increase our sense of well-being. Focusing on your breath and flowing through each yoga posture will aids detoxification, improves digestion and flexibility.
Our Singita Online Club has videos of varying lengths to reflect each of these modalities. No excuses, give it a try!  Keep moving, keep believing, be strong, be beautiful, be you!