Book a treatment
Due to Covid restrictions, please contact us by phone or email to book a treatment.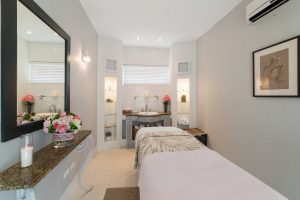 MASSAGE
60 min Swedish Massage – $275
A classic European massage to relax and rejuvenate your mind, body and soul.
90 min Swedish Massage – $375
60 min Deep Tissue Massage – $325
A massage with deeper pressure, targeting stiff and aching muscles to increase circulation and enhance healing.
90 min Deep Tissue Massage – $425
30 min Neck, back & shoulder Massage – $175
A top up for stiff and achy muscles, targeting neck, back and shoulders.
75 min Sports Massage – $385
Sports Massage is geared towards athletes of any kind from professionals, to weekend warriors. Focusing on areas of the body that are overused and stressed from repetitive movements.
60 min Reflexology – $225
Reflexology is an ancient healing practice using pressure points in the feet. Boosting circulation, inducing a deep state of relaxation. Reflexology helps remove toxins and balances your body.
60 min Indian Head Massage – $265
An ancient Indian practice, which stimulates lymphatic drainage and increases blood flow. Helps with headaches, sleep disturbances and renews energy level.
FACIALS
60 min Singita Bespoke Facial – $300
Enjoy a healthy and youthful glow with a Singita Facial. Exfoliate, cleanse, nourish and hydrate your skin in a luxurious setting.
90 min Singita Signature Facial – $470
Feel the effects of an "instant facelift" and enjoy a luxurious back and neck massage.
WELLBEING
20 min Bemer BioMat – $40
Bemer stands for Bio-Electric Magnetic Energy Regulation.  Lie on this mat a few times a week and feel the unbelievable benefits of increased micro-circulation. This helps the cardiovascular system as well as regenerative abilities and even mental acuity by increasing the nutrients to organs and expediting the elimination of toxins.
60 min Personal Training   – $200
Maximize your workout with a qualified experience trainer together.
HANDS AND FEET
Classic
Mani              45 mins         $80
Pedi                1hr                 $120
Delux
Mani              1hr                 $105
Pedi               75 mins         $150
Add
Gel polish    +15 min         $15.00
French         + 20 min        $15.00
Men's
Pedi                 1 hr               $105
Mani              45 mins         $70
90 mins Jetlag Package – $300
+ 30 mins express mani+ 30 mins pedi + 30 mins massage
Advance 10 – Fitness class or Bemer BioMat sessions x10 $350
All prices are in Barbados dollars.