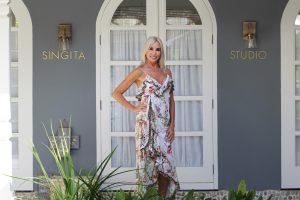 Owner Michelle Jamieson leads with creative energy, genuine love and care for her community and is supported by these amazing professionals.
Spa Manager & Wellness Coach – Sarah Hubbard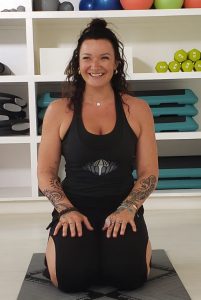 Sarah brings extraordinary client care to Singita Wellness Barbados in the role of Spa Manager for our wellness centre and as the owner of XO Guest Services, the island's virtual concierge desk. Sarah is here to assist you and help create your luxury Singita experience alongside the incredible team of therapists and fitness professionals. 
You'll also find her providing mindful and meditation classes as our resident Meditation Teacher and bringing healing to clients using Reiki Therapy, in which she is a Reiki Master Teacher. You can try one of her Guided Meditations for yourself live and on demand for Singita Wellness Online Club Members

Sarah says; "I am so happy to be a part of the Singita Wellness team in this truly paradisiacal environment. The community spirit created by Michelle, the Spa Therapists and Fitness Instructors, is at the heart of the wellness centre and it is a genuine pleasure to interact with everyone. My work as a Reiki Practitioner and Meditation Coach perfectly aligns with the ethos of the community and with Michelle's vision for its growth. I couldn't be happier to be working within such a beautiful space and I am thrilled to assist guests with any request they may have. I can always be contacted via email sarah@singitawellness.com or come see me at Singita Wellness!"
The Reception Team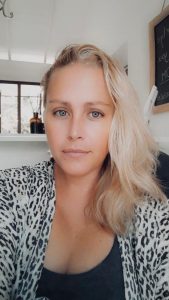 Holly Edwards has been an integral part of the Singita Wellness Team since the wellness centre's opening in 2018.
She says; "I have over 15 years experience working in high end customer service, such as at the Cliff Restaurant and transitioning to Singita has felt natural and seamless. At Singita it feels like being part of a large family whether it's working with fellow staff members who have become friends, seeing friendly regulars or meeting new people."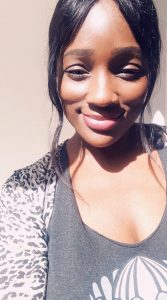 Lavern John delivers a friendly welcome to all who visit us. "I have worked in the hospitality sector for 19 years and really enjoy meeting new faces and returned guests and interacting with people. Since joining Singita Wellness in 2018 it has become my 2nd home, with loving staff and an awesome Boss, it really feels like my family. My duties as a Receptionist includes making our customers happy and at peace at our lovely centre and my nickname is Lovey Dovey! Every shift I enter Singita, I always sit and enjoy the calmness and spiritual feeling of its surroundings and I am looking forward to you all becoming Singitians very soon💜"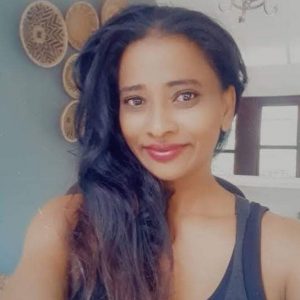 Amanda Arjoon  looks after the Singita Wellness space, making sure it is always perfectly serene and everything our guests deserve.
She says; "Hi, My name is Amanda. I have worked at Singita since the very first day it opened in 2018. Singita is one of the most peaceful and happy places to work and I love being a part of the Singita Family."
The Spa Team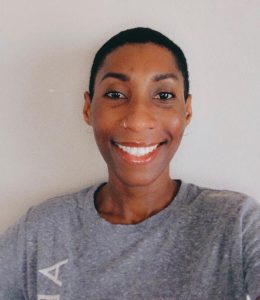 Tishiera Lewis brings the highest level of professionalism and experience to the Singita Wellness Spa Team.
She says; "Hi my name is Tishiera and I am one of the faces you will definitely see here are Singita . My experience in Beauty, Spa and Massage therapy spans over 15 years. I have worked in some of the most prestigious private islands and spas around the world and Singita is second to none in all aspects. I have been at Singita since the inception and have absolutely loved all the clients and my team who have ultimately become like family. Singita is an oasis like no other, and I look forward to welcoming you into this beautiful spa."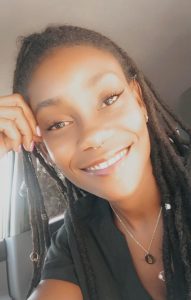 Sherita Burgin can be found in the dedicated nail room at the Singita Wellness Spa always delivering the very best treatments to her clients.
Sherita says; "I have over 10 years experience in the beauty and wellness industry and am so happy to have joined the team at Singita Wellness. As well as enjoying our lovely beaches and experiencing nightlife with friends, I'm a family orientated island girl who appreciates quiet time alone (or with her cats) to reset and recharge. I perform nail services, facials and body scrubs with passion and professionalism and as the saying goes "if you enjoy what you do, you'll never work a day in your life" which is how I feel about working at Singita; knowing that each and every guest's desires and needs are met and that they leave feeling even just a little bit better about themselves is my favorite part of the role. Singita wellness is a magical space and everyone deserves to experience what we have to offer. See you soon!"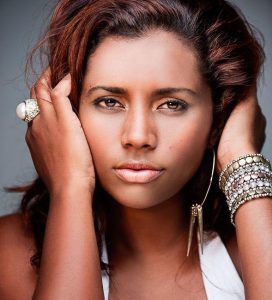 Fiona Gaskin brings her special energy to the Spa Team, providing beautiful spa treatments to regular and new guests. "I'm a professional Esthetician, Nail technician and Massage therapist with over 15 years experience in the profession. I really enjoy advising and helping clients achieve their personal self care goals for facials, Swedish and sports massage treatments at Singita Wellness. My belief is all we need is a little "pampering" to help us feel better."
We are grateful to Kim, Tonya, Zoe & Juliette who join our Spa Team during busier times, supporting the community with their individual talents in Massage, Holistic and Nail Therapies. 
The Fitness Team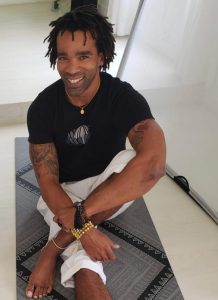 Hodari Akida has been teaching yoga since 2012 after completing his 200RYT training in Colorado USA. Having taught at several reputable studios and having taken many yoga workshops across the United States, Hodari considers his time on the yoga mat as his single most valuable self-investment.
His words about Singita and his practice are full of his trademark authentic energy; "After entering the doors of Singita Wellness when I moved back to Barbados in 2020, I knew everything I had previously encountered led me to that moment. The synergy between the Singita fitness staff and clientele was too inspiring and encouraging to not get involved and immersed. I am delighted to also have my offering of sound healing with quartz crystal bowls and gongs welcomed into the space at Singita Wellness.
My teaching style is light hearted and communal. I like to focus on alignment, while using intuitive anatomy cues to help yogis increase body awareness and keep their thoughts present. I have a particular love for inversions and arm balances, but I also strive to keep my classes accessible to yogis at any level."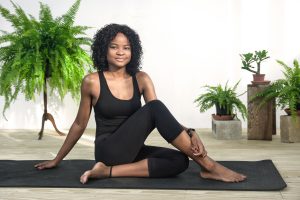 Jo Hamilton brings a focus to alignment in her wonderful weekend yoga classes, "I have been practicing yoga for over 6 years; my personal yoga journey has helped me to grow stronger, more flexible and more confident as an individual. Although I began practising yoga mainly to increase strength and flexibility, my yoga practice now inspires me to live each moment mindfully and remain calm in stressful situations. Yoga has become a way of life and enables me to feel free, balanced and fulfilled, consequently, I am passionate about sharing the physical and mental benefits of a regular yoga practice with the Barbadian community.
I understand that yoga can be very intimidating for many people so I aim to break the stereotype by making every pose accessible to everybody. Persons usually leave classes feeling relaxed, energized and a little lighter than they came. My classes are a mixture of challenging, relaxing and inspiring."